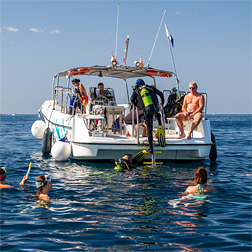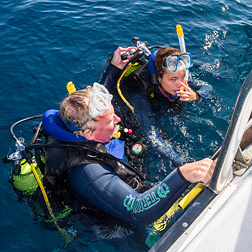 The coastline of Palamós and Palafrugell is famous for its underwater beauty and has several official dive sites at Ullastres, the Formigues islands and La Llosa.
To protect the underwater environment, these areas are regulated with restricted access. For this reason, Camping Benelux has come to an agreement with the scuba-diving company Anemone Diving Center which can organize diving trips for you.
If you are at all experienced you can accompany us in our boat to any of these marvellous diving spots.
If you have never dived before you can have your initiation in the campground swimming pool with FEDAS - FECDAS authorized instructors. (1 hour class. Minimum age: 8 years old).
Divers with experience can do technical dives, or take classes in underwater photography, amongst other options.
Picture galleries: Diving initiation and outing to the Formigues Islands.
Please request more information by email or by calling: (+34) 610 208 739